Cynthiara Alona
On special request Asian-Sirens brings you: Cynthiara Alona.
Once again I have to say I could not find a whole lot of information on this 21 year old Indonesian model and actress (because most of what I found was in Indonesian), but all I dug up is in
Some facts

Name: Cynthiara Alona
aka: Cinthia
Date of birth: June 8, 1985
Place of birth: Jakarta, Indonesia
Ethnicity: Indonesian
Weight: 45kg
Height: 1.68m
Measurements: 36C - 36



Cynthiara Alona on the web
Cynthiara Alona @ mail-archive.com
Cynthiara Alona @ bugil.sensualwriter.com
Cynthiara Alona @ gallery-kgnyibob5q0c8wy.usercash.com
Cynthiara Alona @ indo-exotic.blogspot.com
Cynthiara Alona @ iklan.web.id
COMMENTS
Great shape! She's so hot! Not the typical indonesian in my mind.

One of those blogs says the like the concept of one night stand. I'm more into one night bedding. :)

very nice...but her breasts are a little too tight...very pretty face
i like her eyes,so attractive and charming.
Borderline tranny.Still hit it.;->
Cynthia..oh Cynthia..

I'm an Indonesian, and this is the news about her...

She's the next hottest thing in Indonesian adult industry.. if there ever was any :)

Well, she build her reputation from Underground Indonesian Web Forum and recently she posed for Popular Magazine, one of the nation's mens magazine, not nude of course..

She also appeared on many TV talkshows, and she was very frank when she admitted that she was in to 'One Night Stand' as well as Men with fortune..aren't all girls are?

Anyway, she's like the second Tiara Lestari, with bigger boobs though

So for all of you guys who's not familiar with Indo Girls... they're damn hot!! She's only one of the few example... discover more...


Is that "sista booty" I see hangin off the backa dat?
Not fond of the fake breasts. Especially the second one: one's pointed straight up, the other at her toes!
i like her looks but luvjgirls is right, her nipples are not straight...probably can be fix..
This is one of the risks of breast surgery - most women have slightly uneven nipple positions and breast shapes, and this is often exaggerated by implants. The effect is worst with medium to large sized implants - they exaggerate it more than smaller ones, but don't completely determine the form of the breast (as very large implants would). The girls who start out with nothing actually have an advantage here - their beasts will look totally fake, but they can be made to look very even (e.g. Francine Dee or Sakura Sena).
Apart from this unevenness though, I think this girl is pretty hot! Could do with less mascara though...
Is she one of Indoneisan Playboy "PET" on April edition?
She is very hot.
I like her.
"Cyber" is the only word that comes to mind.
Besides her eyebrows, mascara and uneven nipples, she is hot. And I love Asian girls with bootie, drives me wild.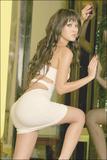 wow im indonesian..but i dont know bout this hot Cynthiara Alona, especially her nude photos..nice post dear Robin Hood..!!!
one more thing..it's quite rare for an indonesian girl to admit that she's a 'one nite stand' type..bravoo Cynthiara Alona...
A gorgeous woman of stunning proportions. I don't care that her breasts aren't symmetrical: most women's aren't. In any case, when you have your face buried in them, what difference does it make? She's fabulous.
Good to see all this positive feedback!

Personally I like Tiara better (for her looks that is), and I am wondering if Cynthiara will be as popular as Tiara got in such a short time... Of course she had Playboy and Penthouse on her side. And not to mention our favourite photographer Adam Yurman! :-P

Maybe this post will contribute to Cynthiara's fame? ;-)
For me the terrible misshapen breasts ruin everything else about her that might be appealing.

No, no comparsion with Tiara Lestari.
Tiara is married according to her blog to a guy named Andy..so forget her and let's enjoy this chick with..boob job..nose job..Dr Lee are those silicons ? not salines right? I am sure they were done in singapore.
With this type of boob job, it's hard to tell by looking at photos. Good video would help, but I would have to fly over to Indonesia and feel them to be sure - all in the interests of science of course. ;-)
i think girls nipples are like guys balls (this is not from personally experience) :) one side is always lower or so...:) this girl's nipples look a little crooked..but nice....
i am sure doc would do this in the name of science:)
I am still speachless a day after seeing this woman's pictures. I just don't see any of the flaws mentioned above. To me, she is beyond hot. More like salivating. Drool inducing maybe.
I didn't even notice at first the uneven nipples. I'm not picky about those details, when I have such a hot woman in front of me. It wouldn't bother me at all! :)

Shes hot. Those boobs remind me of thitma.
she is rather dreamy, i must say.
So Indonesia.....girls HOT....any others
Am I allowed to say Erection maker....
No. Better not to say like that. Since today this site not seen only by men but women also. So, we have to give them convinience site, which they can sit, see, talk, write, and the most important they can discuss it with men.
If you talked with "E***** maker" means this site only for one gender. We have to avoid this way.
We have to realize, today they give not in a small portion contribution, but on the contrary, they give better ideas to make this site better and better.
Hope you can understand.
ok thanks how about Homemaker